1.1 Introduction to rolling bearings
History of Bearing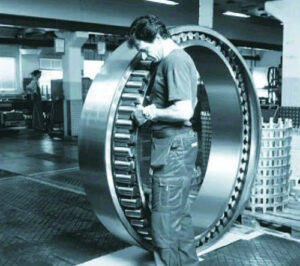 After the invention of the wheel, people found that it was much easier to use rolling to move objects on the same surface than sliding. Even though it was later found that lubrication can reduce the work required for sliding objects, the work consumed by rolling is still less. For example, archaeology has found that ancient Egypt used lubricants much like water to reduce the human burden when carrying huge stones and stone carvings with skateboards around 2400 BC; By around 1100 BC, Assyrians had put logs under skateboards and achieved the same result with less manpower. Therefore, the application and development of rolling bearings in complex machinery and mechanisms is an inevitable result. Dowson gave a comprehensive introduction to the general history of bearings and lubrication, and his introduction to ball bearings and cylindrical roller bearings covers a wide range. Although the concept of rolling has been recognized and applied for thousands of years, and the simple form of rolling bearing has been used in the Roman civilization around 50 A.D., the wide application of rolling bearing did not really begin until the era of industrial revolution. However, reti shows that Da Vinci (1452-1519 A.D.) proposed different forms of pivot bearings with rolling elements in his book Codex Madrid, even including a ball bearing with a separation ball device. In fact, Da Vinci, who has made rich achievements in tribology research, once said:
I am sure that when a weight with a flat surface moves on another plane, adding a sphere or roller between them will make the movement easier; Except that the sphere can roll in all directions and the roller can only roll in one direction, I can't see any difference between them. However, when the ball or roller contacts each other in motion, the movement between them will be more difficult than that without contact, because they contact in the opposite motion, and the resulting friction will cause reverse motion.
If the ball or roller can keep a certain distance from each other, they will only contact at the point of action of the load and its reaction force, "as a result, the movement of the object will become easier.
The above is Leonardo da Vinci's assumption of the basic structure of modern rolling bearings. At first, the reason why rolling bearings were not widely accepted by designers was that rolling bearing manufacturers could not provide products that could compete with hydrodynamic sliding bearings in terms of durability. However, after entering the 20th century, especially after 1960, due to the continuous improvement of the development and manufacturing level of high-quality rolling bearing steel, which can provide high-precision and long-life rolling bearing components, this situation has changed greatly. The demand of high-speed aviation gas turbine for rolling bearings first triggered the development of rolling bearings; In the 1970s, the increasingly fierce competition between ball bearing and roller bearing manufacturers in the world market provided users with standard rolling bearings of high quality and low price. The term rolling bearing refers to all forms of bearings that use the rolling of balls or rollers to transmit the controlled motion of one object to the corresponding other object with minimal friction. Most of the rolling bearings are used to make the shaft rotate relative to some fixed structures; Some rolling bearings are used for translation, that is, linear motion relative to a fixed direction of a stationary axis; There are also a few rolling bearings designed to allow two objects to move in a relatively linear and rotating combination.
Structure of bearing
Usually, a set of bearings is a component, including two steel ferrules, each of which has a hardened raceway on which hardened steel balls or rollers roll. Balls or rollers are collectively referred to as rolling elements, which are usually separated by an equiangularly spaced support that has long been described by Leonardo da Vinci for its function. This bracket is called a separator or retainer.
Rolling bearings are generally made of steel with high quenching hardness, at least high surface hardness. Aisi52100 steel containing an appropriate amount of chromium and easy to harden is widely used in the bearing industry, and the quenching hardness of most bearing parts reaches 61~65hrc.
Some manufacturers also use this steel to make roller bearings. Because miniature bearings are often used in instruments with high sensitivity requirements, such as gyroscopes, general manufacturers are used to using stainless steel such as aisi440c to make bearing parts. Roller bearing manufacturers prefer to use case hardened steels such as aisi3310, 4118, 4620, 8620 and 9310 to make rollers and ferrules. For some special purposes, such as automobile hub bearings, rolling bearing parts are generally made of induction hardened steel. In all cases, at least the surface of rolling parts should have high hardness. In some high-speed applications, in order to reduce the inertia load of the ball or roller, these parts should be made of lightweight, high compressive strength ceramic materials such as silicon nitride. In addition, ceramic rolling parts have a longer service life than steel at ultra-high temperatures and in dry film or lean oil lubrication applications.
Compared with the materials of balls and ferrules, the materials used in cages are generally required to be relatively soft, and they must also have a good strength mass ratio. Therefore, materials with different physical properties, such as low carbon steel, brass, bronze, aluminum, polyamide (nylon), polytetrafluoroethylene (Teflon or PT ℉ E), glass fiber and carbon fiber reinforced plastic, can be used as cage materials.
In the era of deep space exploration and cyberspace, many different types of bearings have been applied, such as air bearings, foil bearings, magnetic bearings and hydrostatic bearings. These bearings are suitable for some specific applications. For example, when the space size is sufficient, the pressure fluid supply is sufficient, and high rigidity is required under heavy load, hydrostatic bearings should be used. For another example, under the application conditions of high speed, light load, low friction and the existence of air source, self pressure air bearings can be used. However, there are not many restrictions on the application range of rolling bearings.
Advantages and disadvantages of bearings
Rolling bearings are suitable for different operating environments, such as high load, high temperature and dust environment in steel-making equipment; Dirty environment in earthwork and agricultural machinery; Vital aeronautical power transmission system; Extreme high low temperature and vacuum environment in deep space. In all the above applications, rolling bearings have been well used. In particular, compared with other types of bearings, rolling bearings have the following advantages:
the rotational friction torque is much lower than that of hydrodynamic bearings, so the friction temperature rise and power consumption are low.
the starting friction torque is only slightly higher than the rotating friction torque.
bearing deformation is less sensitive to load changes than hydrodynamic bearings.
 only a small amount of lubricant is required for normal operation, and the lubricant can be self supplied for a long time during operation.
the axial dimension is smaller than that of traditional hydrodynamic bearings.
it can bear combined radial and thrust loads at the same time.
in a large load speed range, the unique design can obtain excellent performance.
bearing performance is relatively insensitive to fluctuations in load, speed and operating temperature.
Despite the above advantages, rolling bearings also have a disadvantage compared with hydrodynamic bearings. In this regard, Tallian divides the development of modern rolling bearings into three periods: the "experience" period before the 1920s; The "traditional" period from the 1920s to the 1950s; And then the "modern" period. No matter in the experience period, the traditional period or the current modern period, it is believed that even if the bearings are well lubricated, installed correctly, protected against dust and moisture, and operate normally, they will eventually fail due to the fatigue of the rolling contact surface.
Research in the 1960s showed that there was a minimum fatigue life of rolling bearings, that is, before that, "premature failure" caused by rolling contact fatigue would not occur even if the fatigue failure criteria under normal operating conditions were met. In addition, modern manufacturing technology has been able to produce parts with high geometric accuracy and bearings with extremely smooth rolling contact surfaces; Modern steelmaking process can provide high purity bearing steel with few impurities; Modern sealing and lubricant filtration technology can prevent harmful impurities from entering the rolling contact surface to the greatest extent. Today, in many applications, even when there is heavy load, the combination of these methods may eliminate the occurrence of rolling contact fatigue. In many light load applications, such as most motors, fatigue life is no longer the main problem to be considered in design.